For its sixth edition, the 2020 Golden Pinwheel has generated an unprecedented level of enthusiasm, as 2,238 illustrators from 77 countries and territories entered their works in the competition.
Shaped as a competition aiming to promote the development of the children's book publishing industry has received nearly 11,200 pieces of illustration that the five members of the 2020 Golden Pinwheel jury Chen Hui (China), Sunkyung Cho (Korea), Simon de Jocas (Canada), Philip Giordano (Italy) and Jiu'er (China)—had to review throughout the summer. After three rounds, they identified the 50 most creative and attractive series to be included in the 2020 Finalists selection, which we are happy to announce below.
The 50 finalists' illustration series will be exhibited in the Golden Pinwheel Exhibition taking place at the next China Shanghai International Children's Book Fair from 13 to 15 November. In addition, their works will be featured in the 2020 Golden Pinwheel Illustration Yearbook.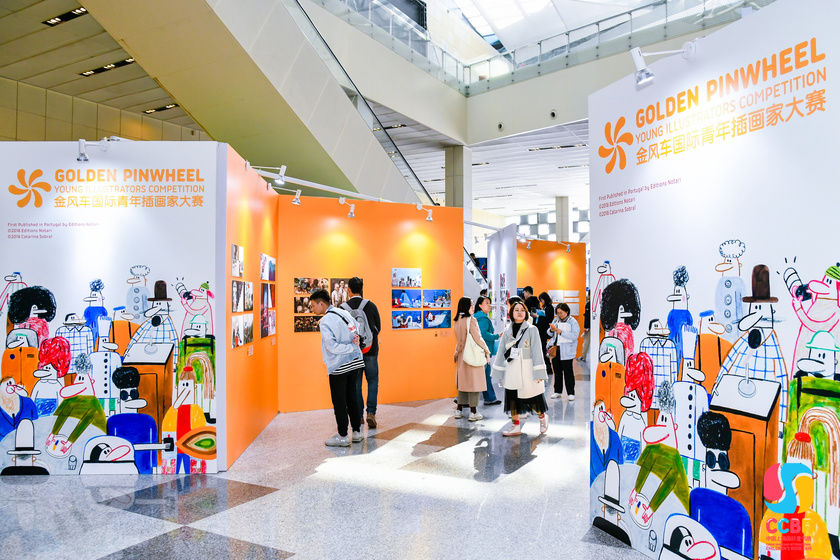 The 50 finalists come from 16 countries and territories. 2020 Finalists Selection (in alphabetical order):
Name
Michael Bardeggia
Julien Billaudeau
Ana Bustelo
Zuzanna Celej
Tzu-Chun Chang
Lijiao Che
Liuxu Chen
Giovanni Colaneri
Maria Coll Sagué
Paloma Corral Fuentes
Chao Cui
Reza Dalvand
Ian De Haes
Jam Dong
Yuliya Drobova
Joelle Gebhardt
Francesco Giustozzi
Carly Gledhill
Ida Hong
Tzuyu Huang
Su Jung Jang
Anna and Varvara Kendel
Mojdeh Kianzadeh
Hyun Lee
Moonyo Lee
Younglee Lee
Jiuming Liu
Thea Lu
Ling Luo
Masha (Shachaf) Manapov
Ana Maraž
Elisa Marzano
Giulia Masia
Naida Mazzenga
Ekaterina Metelitsyna
Veronica Neacșu
Yiyang Qiu
Jing Que
Rao Fu
Sandra Rilova
Noushin Sadeghian
Xiaoyu Shao
Olga Shevchenko
Laura Simonati
Xiaotu Tu
Laura Winstone
Peng Wu
Tianjiao Xia
Zhao Niao'er
Xintong Zhong
Country and territory
Italy
France
Spain
Poland
Taiwan, China
China
China
Italy
Spain
Spain
China
Iran
Belgium
China
Germany
Canada
Italy
The United Kingdom
South Korea
Taiwan, China
South Korea
Russia
Iran
South Korea
South Korea
South Korea
China
China
China
Israel
Slovenia
Italy
Italy
Italy
Russia
Romania
China
China
China
Spain
Iran
China
Russia
Italy
China
The United Kingdom
China
China
China
China
On 12 November, the Jury will determine the winners of the Golden Pinwheel special awards among the 50 finalists: one Grand Award (China), one Grand Award (International) and three Special Mentions. The results of their selection will be announced one day later, on the opening day of CCBF.
But before that, on early November, all the finalists' artworks will be released on the Golden Pinwheel official website and submitted to a popularvote open to everyone in order to determine the winner of the People's Choice Award. All CCBF visitors and CCBF will also be able to vote onsite at the exhibition. The chosen candidate will be announced on 15 November.
Finally, one of the abovementioned winners (Grand Awards, Special Mentions, People's Choice Award) will be chosen to become the illustrator of CCBF's visual identity in 2021. The visual identity will be integrated into the design of the fair's website, social media, prints, gifts, media ads and outdoor advertising.