China Shanghai International Children's Book Fair (CCBF) is honoured to invite Jiu'er to join the jury of the 2020 Golden Pinwheel Young Illustrators Competition. She is an Illustrator and Writer.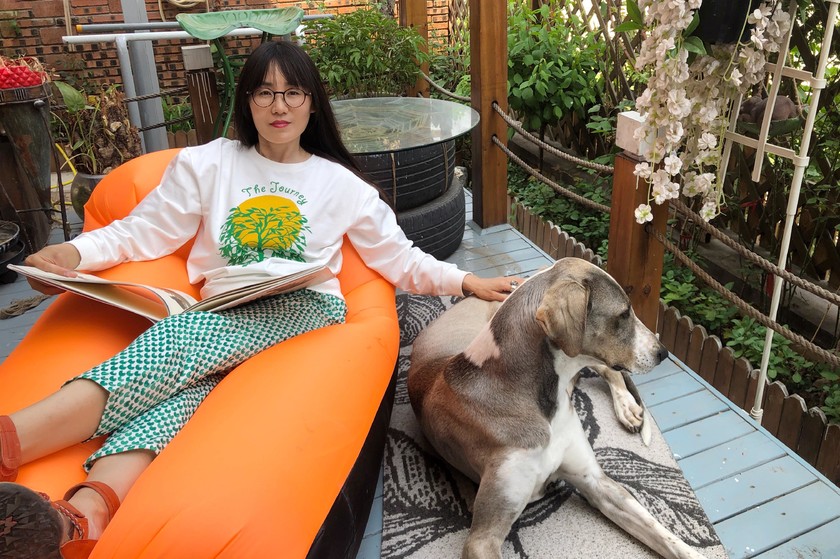 Before starting as a picture book artist in 2013, you have been a sculptor for many years. Your début picture book granted you instant recognition from the publishing industry. Does your artist background help you make picture books? How does it influence your storytelling?
Before publishing my first picture book My Little Sister's Big Pumpkin at the end of 2012, I had never read a picture book in my life and had been focused on sculpture for more than ten years. I started drawing when my family relocated from the countryside to the city. After many years in the city, my parents couldn't get used to their new environment, they missed the old days in the countryside and the satisfaction of spring and autumn harvests. To cheer my mother up, I drew many pictures of rabbits doing farm work. Later, thanks to the professional advice of the publisher Beijing Poplar, these works were brought together in a nice picture book.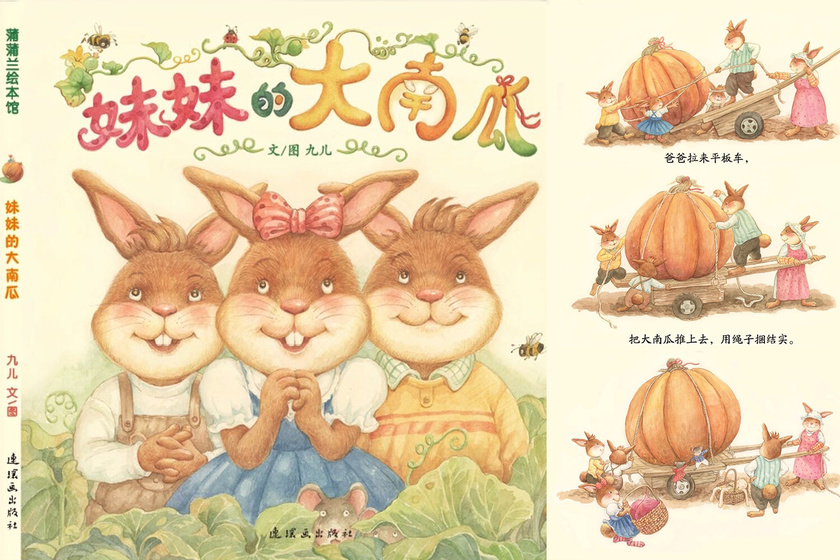 In the past few years, I have cultivated a passion for picture book creation and have published 14 of them. It is definitely true that my previous sculpting experience has nurtured the images in my books. Our experience and learning leaves traces . The ideas and thoughts presented in the figurative or abstract symbols of my sculptures can be found in the creation of picture books I've published and in those to come.
In all my picture books, in addition to providing children with interesting and meaningful stories, the adults' thinking is an aspect that I value very much. This is true even when I work with other authors, who obviously make the main choices about the stories. For example, The Moose of Ewenki, on which I worked with the Chinese novelist Black Crane, is adapted from the one of his novella Jail. It is a legend about the life and death of a deer hunter and a moose in the Great Xing'an Mountains in northern China. The pictures in the book are like the vicissitudes of life recorded in old photos or in black-and-white documentaries, gradually changing from black and white to colour. So I chose the illustration techniques accordingly, using a combination of carbon pencil and watercolour. First, I drew detailed sketches on watercolour paper and then used watercolour, as to give the pictures have a breathable quality and make the colours look vivid and appealing.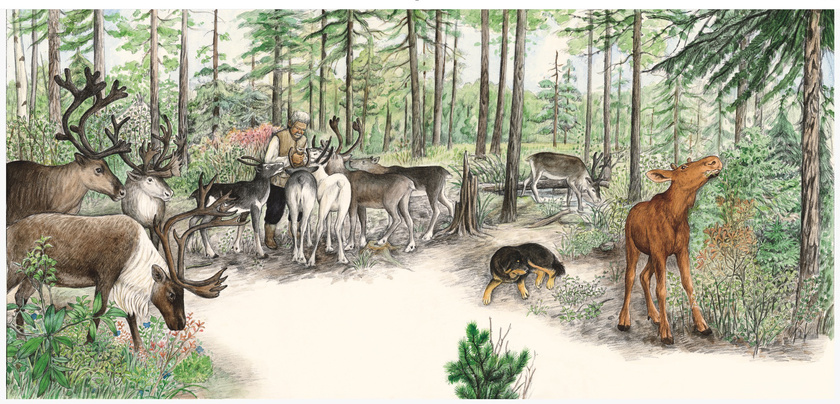 At the end of last year, I created three wordless books—Journey, Mr. Black and His Dog, and Button Soldiers—inspired by random feelings about life. I used to be a little bit like Mr Black. I also had a puppy that brought me happiness. I met some good friends who helped me regain confidence in myself and feel joy for life. Beyond this very personal situation, there are actually many people like me. They need such books, and likewise, children need an innocent understanding of life. This is the original intention that can be found in my creations. In children's picture books, it is essential for adults to think about responsibility, about life and about everything in the nature that surrounds us. In addition to the fun of creating such books, there is a sense of self-revelation in my heart. This profound truth buried deep in the story is like fertile soil under the leaves, making reading more meaningful. The continuous accumulation of nourishment brings children warmth and hope in their future life, a sincere attitude towards nature and a strong resilience when facing difficulties. It is also like the seeds of flowers, which will be passed on from generation to generation.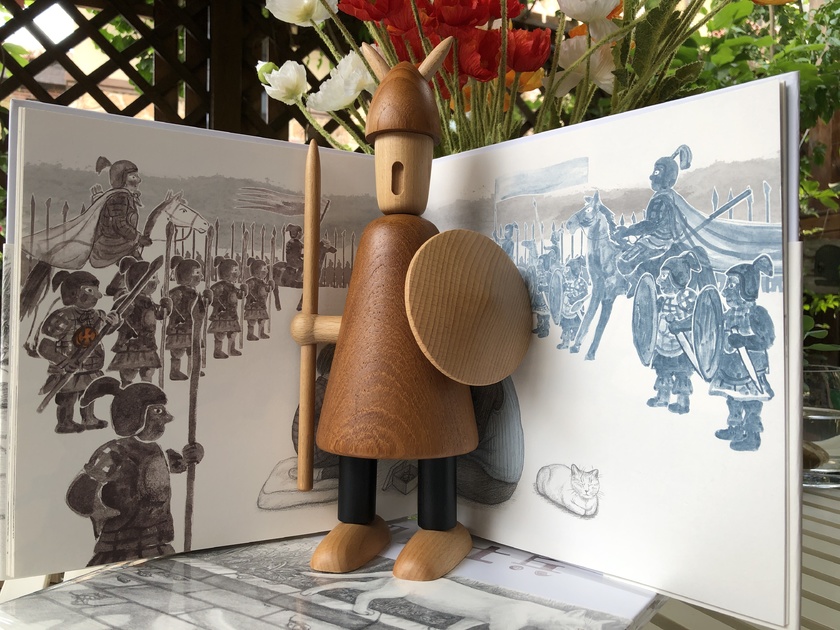 In 2019, your silent book Mr Black and His Dog was well received. Can you share with us your feelings on creating a silent children's book?
Wordless books have always generated a strong attraction in me, because they are free from the restrictive assistance of the text, and they are extremely playful to read. Of course, the most attractive part of the game is that they are extremely challenging. Every time I open a wordless book, I feel like I am taking up a challenge excitingly. Because there is no text, silent books require much deeper thoughts from the illustrator to enhance the narrative function of the pictures. It is just like a pantomime performance, where one has to use their body language and background props to tell the viewer what they are talking about. Therefore, wordless books are often recognised as the most difficult kind of picture book to create. But when I made my own wordless books, the absence of text makes the story come straight from my heart. The creative process is an intuitive feeling in which both the "performer" and the "observer" shall test each other's capacities and ask themselves: Am I on the right path with my observations? Am I understanding the story? Did I see everything? If I were the reader, would I understand the story? In fact, it is not so difficult to create a wordless picture book. We will always find a way to use our skills and experience to understand what is being expressed. These skills come from our natural ability to read pictures and the accumulation of experience acquired through life.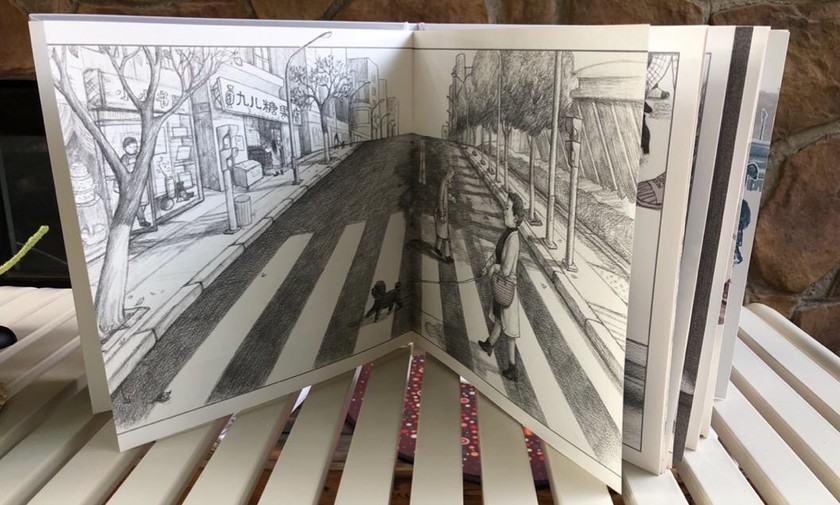 For example, in Mr. Black and His Dog, a lose rope is suddenly pulled by an invisible force. The white puppy on the other side cannot be seen, but our common sense tells us that the rope is being pulled from two opposite directions. What's more, many of us keep dogs, and I myself have a cute dog, which has given me a lot of creative reference and inspiration. So I used my experience to portray the state of the puppy trying to rush forward, and the reader will easily understand the situation. As the creative process goes on, drawing becomes freer and more dynamic, and there is a search for narration from inside out. A wordless book is a place where the authenticity of life, observation, understanding and imagination interact perfectly. It's the art of seeing. The attention level of children aged three to six on pictures is higher than that on words. Therefore, in the process of children's development, observation is extremely important.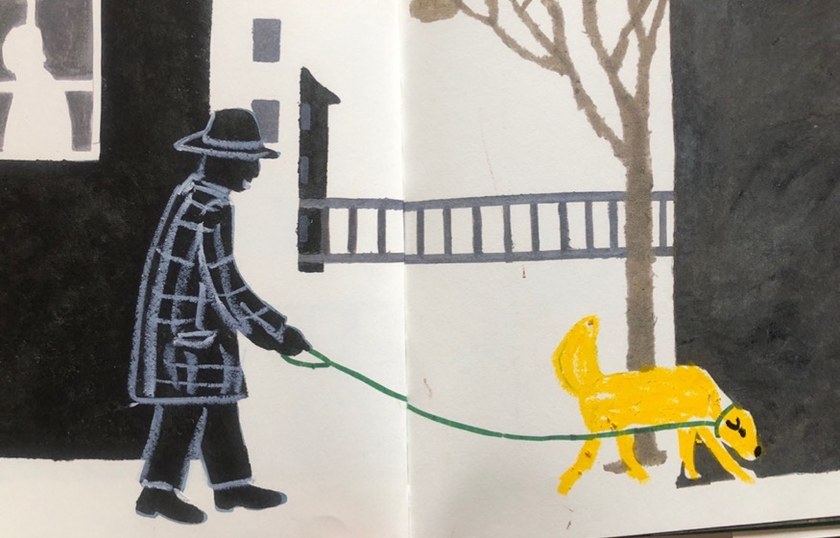 What are your expectations for the upcoming jury work?
I look forward to seeing the originality and diversity of story-driven picture book illustrations. No matter how traditional or modern the style, I hope to see artworks that were created with enjoyment, and boast warmth about life and powerful storytelling.
Can you recommend a children's book for us? And why do you like it?
I will recommend a wordless book—A Boy, A Dog, And A Frog. This is a set of books I have kept on the bedside table, and I am reluctant to look at them all at once. This book is a classic by Mercer Mayer, whom I consider the father of silent books. Starting with the first work A Boy, A Dog, And A Frog, Meyer uses humorous storytelling to tell the adventure stories of a little boy and his animal friends. The story is interesting, the pictures are interesting, there are children, there are details, there is life!