Among the different awards linked to the Golden Pinwheel Competition, the People's Choice Award bears a very special meaning. Voted by CCBF exhibitors, visitors and website viewers, the winner of the People's Choice Award shows a very singular strength, that of being able to seduce an audience as broad and diverse as publishing professionals, readers and illustration enthusiasts of all ages, levels and horizons.
In 2020, this merit went to 21-year-old Qiu Yiyang (Shenzhen, China). Not only the youngest finalist in the last edition of the Golden Pinwheel competition, but Qiu Yiyang's spirits also fly high when she talks about how she wants to convey the beauty of nature and life through her artworks. The short interview she accepted leaves no doubt about her promising future.
Q=China Shanghai International Children's Book Fair(CCBF) A=Qiu Yiyang
Q: For a start, what should we know about you and about how you became an illustrator?
A: Hello everyone, my full name is Qiu Yiyang, but I like my friends to call me Yang (Sheep) or Yi Yang (One Sheep). I am Leo in a rabbit costume. I was very surprised and happy to win the Golden Pinwheel People's Choice Award last year. It happened when I was still in college and, frankly speaking, this was my first participation in such a big competition and my first time winning such an award. There is no definite answer to how I got involved in illustration. Apart from a particular interest in it, it is probably related to my dreamy nature and love for life. Drawing is just one of the media I've chosen to express myself. I am good at making full use of my five senses to feel alive. When I'm travelling, when I am on my way home or strolling around the farmer's market, I like to capture vivid and moving moments and record them in the form of photographs, sketches and words,
Q: What is your academic background? Apart from illustration, are there any other art categories that you dabble in?
A: I majored in apparel and fashion design in undergraduate school and have learnt a lot. Among those teachings, two are especially dear to me—the importance of craftsman spirit in design on the one hand, and on the other hand, the necessity to break my conventional approach of fashion drawing. Any colour pattern from anywhere in the world can be the starting point to create a fabric print or to sketch a fashion model. Although I studied clothing design, I have always found a graphic design very attractive. For example, I like the work of Japanese artist Tadanori Yokoo very much. I am fascinated by the visual impact of his colour contrast, his seemingly nonsensical collage and the sense of shapes induced by his visual rules. If my superficial contact with the design industry has left any mark on my creation, it showed many forms of artistic expression. Art does not need solid foundations to be called art. In short, we live in an age where art is for all. Before I realised this, I used to think a thousand times about what kind of image can be called art, and the drawings I started didn't always make me happy. So, in the end, I think the best attitude for an artist is to shut out their emotions from within, and it gets even better when you add a little sense of social responsibility to it!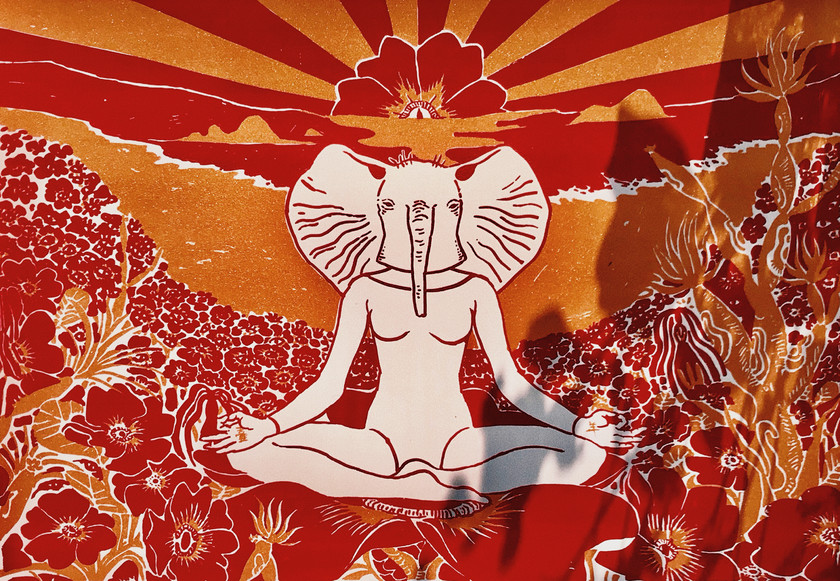 Q: Your award-winning work Looking for the Most Beautiful Net is child-friendly and full of imagination. Can you tell us more about the creative process behind this work?
A: As mentioned earlier, I love finding inspiration in real life. The story took place in Hong Kong in 2019. One day, I was alone passing by a flower shop on Kimberley Street, when I saw a tiny spider weaving a web. The sunlight was very strong and reflecting on the seemingly fragile web, which formed a sharp contrast with the bustling concrete forest of the city. Actually, I used to be afraid of spiders, but at that moment, I found it so beautiful that it remained deeply etched in my mind. As I started with my creation, the first thing was to develop a script and storyboard. I looked at different nets of urban spiders and exemplified them as fishing nets and barbed wire to show the beauty of the spiders' ecosystem. In terms of colour tone, I used a lot of beige and thin green with nostalgic flavours to make the picture look rich in texture. In the process of drawing, I used colour powder and colour blocks cut from magazines to make the background colour and texture and then scanned it into a digital version. But the initial scanning effect I obtained was not ideal. It was only after many experiments that I managed to refine and perfect it by adding digital elements onto the scan. As I had to understand spiders better, not only did I search for information, but I also thought it was important to get first-hand experience. I've spent time observing salticidae and pholcus in the vegetation planted by my father; I've seen heteropoda venatoria at home and nephila pilipes in the neighbourhood garden. It was scary yet stimulating to the brain. But even so, I couldn't transmit this fear to children. Nature is beautiful, and I wanted to make those spiders look cute to bring a positive visual experience to the audience.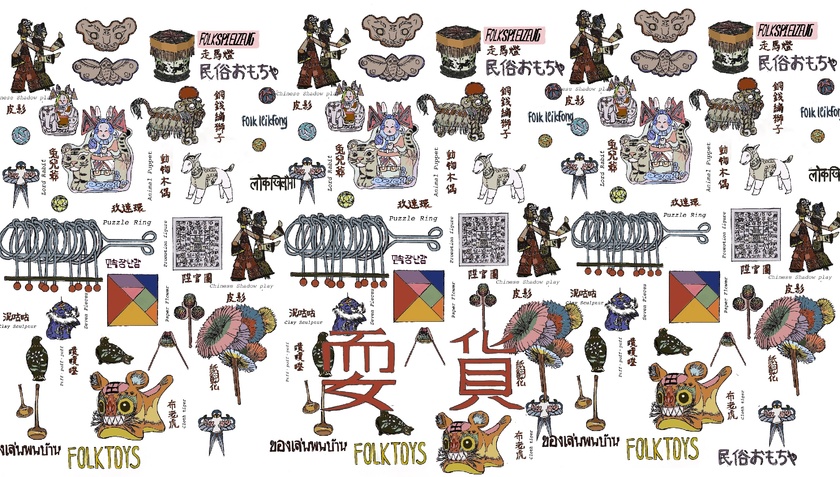 Q: What is your biggest source of inspiration?
A: Interactive things of all kinds, and all sorts of funny coincidences—wind and trees, railings and dog toys, cats and cats, city impressions, specimens and shadows, grass and fallen leaves (if you don't always understand them, try to combine pictures with text, and try to find the interesting pictures that hide in your own daily life… when you don't have to rush to work!)
Q: What are the main difficulties you meet in your creative process?
A: For some time, I have struggled with the idea that my work should be recognisable. Then I realised that the ideas and contents my work conveys are probably more to me than the idea of recognition itself.
Q: How do you look for your own creative style?
A: Strictly speaking, I'm not striving to develop a particular style at the moment, but I am learning progressively what my style is from my followers and friends. Through combining my favourite elements—such as a vintage atmosphere, natural specimens, girl characters, fantasy etc.—and the use of different drawing tools, I know my style will come naturally into being. I will take my time to explore and grow and stay true to myself.