Whatever the specific media chose, drawing for children and young adults has got solid common grounds. To highlight the continuity of the graphic world and bring different visions into its iconic illustration contest, CCBF has, for the first time, invited a cartoon artist to take part in the Golden Pinwheel Young Illustrators Competition Jury.
Based between Madrid and Kyoto, Ken Niimura has a portfolio that bursts with talent. His works have won him numerous titles, including the prestigious International Manga Gold Award and Eisner Award to the Best Digital Comic.
Growing up in an interracial family, Ken was heavily influenced by both Spanish and Japanese cultures. This reflects on his creative upbringing, which involved watching lots of European and Japanese comics and animation and results in a vibrant and exuberant drawing style of his own.
Q=China Shanghai International Children's Book Fair(CCBF) A=Ken Niimura
Q:How does one become a cartoonist?
A:I know many respected professionals that have never had any proper training in comics. There's something in the fact that comics share a common ground with drawing, writing, design, and many other fields, which results in every artist probably having a very different training. Comics are an extremely time-consuming medium, so it's probably ultimately all about sitting and putting those hours in!
In my case, I've been interested in drawing since I was a child, as well as in what I could tell through these images. My father is Japanese and my mother Spanish, so I grew up with lots of European and Japanese comics around, not to mention lots of anime.
That's what led me to study Fine Arts in college, although my real training comes from self-publishing zines, where we would have to do everything on our own, from script to art and book design. This is something that remains in my process—I like to thinkeach book as a complete object, from the cover design to the colouring.
Q:Is there something essentially different between Japanese manga tradition and the vast nebula of Western comics? Or, said in other words, what do they have in common?
A:The three biggest markets for comics have traditionally been the European, American and Japanese. They all developed from different traditions and have evolved with little contact between each other until recently.
In consequence, one of the main differences that might strike readers is that each market boasts a distinct art style, as well as different book formats, publishing pace and even reading sense!
Unlike cinema, where (for good or bad) American movies have in a way determined a global standard, you could say that in the comics world, besides the shared use drawings, text and speech balloons, each tradition has combined these elements in its own proper way.
Personally, I think this is for the better, as it has enlarged the range of creative possibilities within the comic medium. Thanks to the internet, and the access we have to works from all over the world (including those like webtoons that have been originally conceived for online reading), there is a bustling culture that is bridging all of the markets and creating a new language for comics.
Because of my upbringing between Europe and Japan, I've been exposed to these influences since I was a kid, and I'm extremely happy to contribute to this new age of comics.
However, I always try not to forget that in spite of all, it's all really about people sharing their ideas and thoughts through comics. As writer Kazuo Ishiguro says, and ultimately asking a very simple question: 'This is the way it feels to me. Does it also feel this way to you?'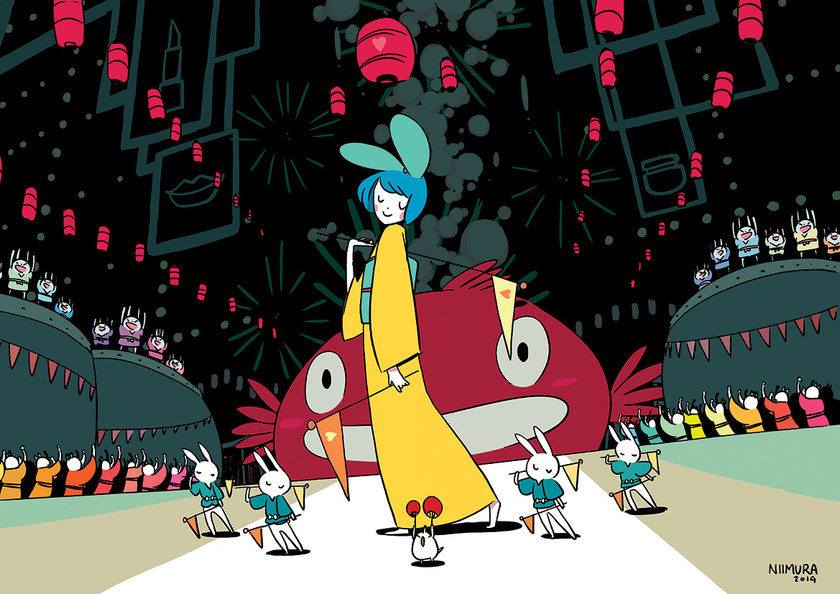 Q:One of your most successful books is I Kill Giants, co-authored with Joe Kelly. We are very interested in knowing more about how comic writers and artists collaborate… How did you work together in this specific case?
A:There are many different ways of collaborating in comics. Some, like writer Alan Moore, are said to provide not only the script, but a small storyboard indicating how each panel should look point by point.
The script for I Kill Giants was already written (and very polished!) by the time I jumped onboard. However, and despite being such an experienced writer, Joe allowed me a great deal of freedom when it came, for example, to the design of the characters. So, it became a very organic process where I was able to add many things to the story through my drawings.
Joe and I have recently collaborated again on a new yet-to-be-announced book, and this time I also helped adding some new scenes, the same way Joe's indications helped guiding the art in some very specific ways. The more we work together, the more freedom we're finding to trespass the limits of what our respective tasks should be, and the more we work together towards making the best possible comic, which is at the end of the day a very organic mix of images and words—some will say comics are drawn words and written pictures!
Q:Several of your books, including I Kill Giants, were later adapted to the big screen. How did that happen? Were you involved in the process?
A:With I Kill Giants, we've been blessed with a very passionate group of readers that have been recommending the book around them. We're extremely grateful for that! The movie happened thanks to Joe Kelly's hard work behind the scenes, and partly because we had the chance that many of the people involved in the production had read and appreciated the original book too.
I decided not to be involved directly in the movie since it was a live action movie (I would have if it had been an animated film!), so I was mostly able to enjoy the process while Joe and the rest did all the hard work.
Movies are very different in that they are usually made by large groups of people, unlike comics which are created by a small number for the most part. Seeing many of the choices they did for wardrobe or sceneries was really impressive. Choices are so much more open when there are many people working together on a single production. Being able to witness all this while I was visiting the set was a real treat.
For someone whose life is basically about working comfortably at home, being suddenly in the shooting location of the movie in Ireland with all the actresses or walking the red carpet at the Toronto Film Festival are experiences I couldn't dream of, and that I'll always treasure.
I'm really happy about the movie, and should confess I'm actually a bit jealous of some of the new scenes added. It's currently available in many countries through Netflix, so go and see it if you have the chance!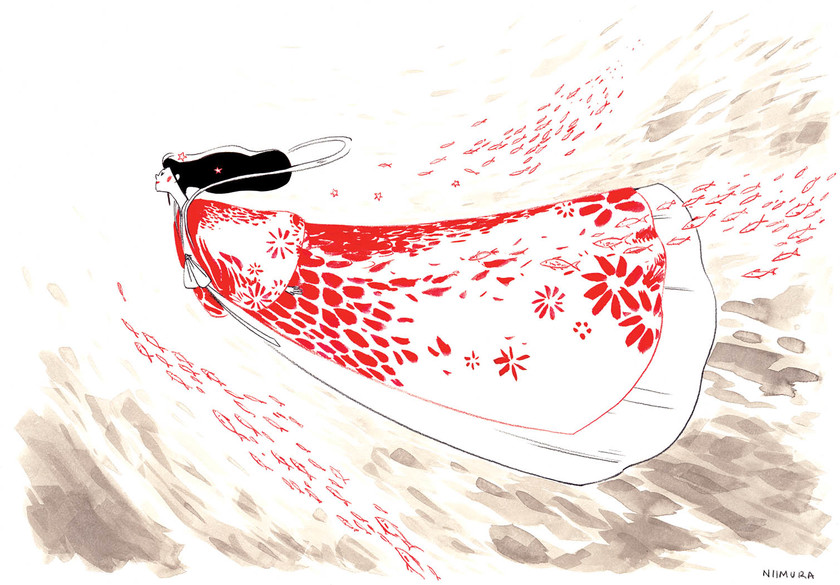 Q:What kind of reader are you? Do you sometimes read picture books? Any particular title that has left you a strong impression?
A:I remember vividly reading a picture book about a train station when I was around 5 years old.
The book depicted what happens in the train station from morning until the last train– each double spread would show the station at a different hour of the day, and I remember being fascinated by each character, the different small scenes, the changes depending on the hour of the day, etc… It's probably the first time I realised how books can capture the passing of time, and although I don't own a copy of it nor do I remember the book title, it left a very strong impression on me. I've tried to find it recently in vain – so if anyone has a clue, do please let me know, it would mean a lot to me!
And on a different note, I LOVE Suekichi Akaba's work!